Some of our favorite memories are tied to fragrances. 
Imagine the scent of orange blossoms in bloom, tropical fruits from the islands, a slice of key lime pie, or the scent of jasmine on a warm summer evening; all are intoxicating scents that conjure up exotic locales & seasonal delights. Citrus Blossom Brand was created so that these fragrances (& more) are available for your enjoyment year round & in any location!
How it all started:
Citrus Blossom Brand was created and founded by Sandi in January 2013 but the story actually began a couple months prior…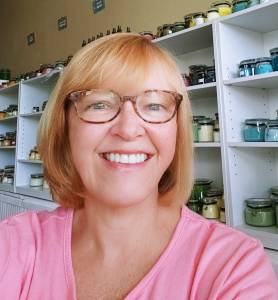 In November 2012, she left a job with a large corporate company, the economy was down and jobs were not very plentiful.  After a couple of months of not working, mild panic was starting to set in.  she went to bed one night praying for guidance as to what she should do.  When she awoke the next morning the first word in her head was "Candles".  So she sat down and developed a marketing plan in about fifteen minutes.  A company name, logo and a basic business plan soon followed.  Having never made a candle before, research was extensive and all consuming.  Armed with some knowledge, and more than a little dangerous, she ordered a fifty pound box of soy wax, a couple of sixteen-ounce bottles of fragrance oil, some wicks and glass jars.  Yes, the wax and fragrance oils are offered in smaller sizes but apparently she was going to go big or go home.  Fortunately the candles came out great (whew!).  Starting this business has been quite an adventure from starting out vending at craft shows to participating in wholesale trade-shows to finally opening a brick and mortar location.
How it's done:
We handcraft our soy candles and flame-less products using the most decadent scents that are sure to energize, refresh, & uplift you. To ensure a quality product, each candle contains natural soy wax, a cotton core wick, along with the finest fragrances.
The candles are hand-poured into  glass containers and decorated with a satin ribbon & charm. Our wax manufacturer states that "the soy wax is FDA approved and Kosher certified.  Non-toxic, burns clean, completely natural and renewable resource.  Helps support the American farmers.  Produces measurably less soot than other waxes and when burned correctly, is virtually soot free." The cotton core wicks produce a robust flame and can help reduce carbon build-up throughout the burn cycle. We use the most exquisite fragrance oils we can find that do not contain Dibutyl Phthalate.  They are of the highest quality with no chemical odor.
To continue enjoying the beauty of the candle containers, the charms can be collected to wear on a bracelet or necklace and the glass containers offer numerous repurposing/reusing options. See our "Blossom's Blog" page that lists many DIY ideas.
Our approach to candle-making and life is that we should do our best, demonstrate integrity, and create happiness. Therefore, we strive to produce the highest quality products, provide excellent customer service, and spread happiness, one candle at a time!
*New fragrances and products are continually updated so please continue to check back for the latest products.*
Proud member of: